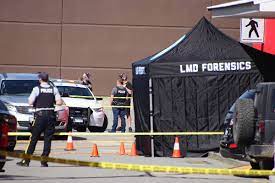 United Nations gang member shot dead outside the Langley Sportsplex
United Nations gang member killed
less than a week after killing of rival
Brothers Keepers gangster Harb
Dhaliwal in Coal Harbour
by Nathan'ette Burdine: April 22, 2021
Tweet
In less than a week after the killing of Brothers Keepers gangster Harb Dhaliwal in Vancouver's Coal Harbour, a
46-year-old male member of the United Nations gang member
was shot dead, yesterday, in broad daylight as he was getting out of his automobile to go into the gym that is located inside of the Langley Sportsplex.
Related-Brothers Keepers gangster Harb Dhaliwal shot dead in Vancouver's Coal Harbour
The United Nations is one of the Brothers Keepers' rivals.
Related-Harb Dhaliwal's gangster lifestyle will make it hard for the Vancouver Police to ID a suspect in his killing in Vancouver's Coal Harbour
"We believe this is a targeted shooting," is what the
Vancouver Sun folks quoted Sgt. Frank Jang
as saying.
Sgt. Frank Jang
, who is with the Integrated Homicide Investigation Team, said the police know who the victim is. The
court
, however, isn't telling anybody what the victim's name is.
And the court is more than likely not telling the public the name of the 46-year-old male member of the United Nations gang due to the concern that revelation of the information could possibly harm the ongoing investigation into the ongoing gang wars that have erupted throughout Vancouver.
Ever since the Brothers Keepers got their big break, in 2017, in the drug trade business, they've managed to make several enemies. And as the number of enemies increases, the number of turf wars and killings increases.
The police are trying to curb the violence because it is seeping into the lives of everyday Canadians. Folks walking their dogs along the seawall and they hear, "BANG, BANG!" Folks go out for a night on the town and they hear, "BANG, BANG!" They go out to the sporting complex with their kids and they hear, "BANG, BANG!"
All of that "BANG, BANG" is causing folks to be concern because they know it's just a matter of time before innocent bystanders become victims of the gangs' turf wars.
More
Stories
comments powered by

Disqus