Brothers Keepers gangster Harb Dhaliwal
Brothers Keepers gangster Harb
Dhaliwal shot dead in Vancouver's
Coal Harbour
by Nathan'ette Burdine: April 19, 2021
Tweet
A little after 8:30PM on Saturday night, a
Brothers Keepers gang member named Harb Dhaliwal
met his end after someone walked up to him in Vancouver's Coal Harbour and shot him dead.
"…the victim was pronounced dead on scene after attempts of resuscitation failed by Vancouver Police, Vancouver Fire Rescue Service and B.C. Ambulance Service," is what
Vancouver Police Constable Tania Visintin
told the Vancouver Sun Folks.
Currently, the
Vancouver PD
doesn't know who did it, but they think whoever did it is connected to another crime, a stabbing one to be exact, which occurred less than 20 minutes after Harb Dhaliwal was shot and killed.
Harb Dhaliwal's two brothers, Barinder "Shrek" Dhaliwal and Meninder,
were in the area when the shooting occurred. Based on the information the folks over at the Vancouver Sun obtained, it sounds as if the brothers were meeting each other for dinner or just a night out on the town. But, nothing has been confirmed.
After hearing about his brother being shot,
Barinder "Shrek" Dhaliwal
rushed over. Due to his grief overtaking him,
Barinder "Shrek" Dhaliwal
screamed out his brother's name and tried as hard as he could to get to his brother's body. The Vancouver police, however, had to hold
Barinder "Shrek" Dhaliwal
back due to the medics needing to do their job of trying to resuscitate Harb Dhaliwal. After trying, to no avail, to revive him,
Harb Dhaliwal
was pronounced dead on the scene.
Harb Dhaliwal's death wasn't as much of a surprise as where it happened was. Harb Dhaliwal was a gangster. And gangsters tend to put out hits on each other in order to move the other out of the way so they can obtain the person's turf.
"Preliminary evidence indicates the shooting was targeted and investigators do not believe there is a specific public safety risk at this time related to this incident,"
Vancouver Police Constable Tania Visintin
told the Vancouver Sun Follks.
During the last 4 years,
Harb Dhaliwal
has had two attempts, one in 2017 and another in 2018, on his life.
Meninder, Harb Dhaliwal's little brother,
was shot in 2019.
The
Brothers Keepers gang is a southeast Asian gang
that has a longstanding feud with the rival Chahil gang. The
Chahil gang
was involved in the 2011 killing of a Red Scorpion member, Jon Bacon, who the
Dhaliwal brothers
have a business relationship with.
Therefore, with all of that shooting going on, the Vancouver police have no other choice but to look at the previous shootings as being linked to the Saturday night shooting that left Harb Dhaliwal dead on a street in Vancouver's Coal Harbour; which possess it's on set of problems.
Vancouver's Coal Harbour is made up of the well-to-do who aren't use to killings happening under the moonlight sky near the fancy restaurants sitting on the beach, next to the boardwalk where folks walk their Shih Tzus and Labradoodles.
The folks in Vancouver's Coal Harbour live in high rise buildings that overlook the waterfront. So when they look out their windows, they expect to see couples getting out of a Maserati and not a dead body lying next to it.
Just so y'all know, the police haven't said what type of car Harb Dhaliwal's body was near. Y'all get the point, though. And if you don't get the point, then stop, for a moment, and look at the pictures below.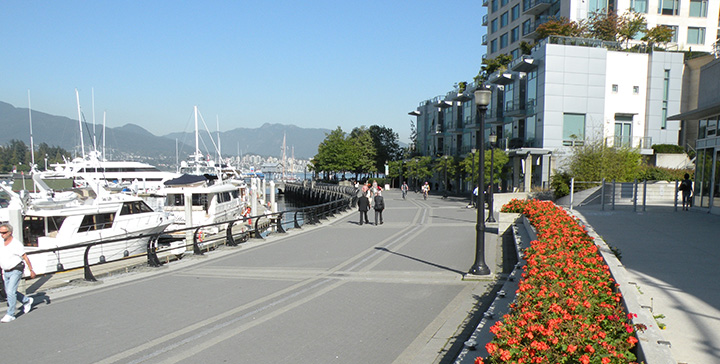 Do those look like places where killings happen on the outside for everybody to see?!...They don't. Due to the fact that Coal Harbour is one of Vancouver's picturesque communities, the Vancouver police will dot all of the i's and cross all of the t's in this investigation because the one thing the police don't want is for fear to drive the taxpayers, who pay their salaries, out of town.
The Vancouver police will talk to the Brothers Keepers gang, which is connected to the a
Hells Angels gang in Hardside
, and other gangs they've had beef with, like the Chahil gang, about what's going on because the one thing the Vancouver police can't have is for a Shih Tzu or a Labradoodle to become a victim of a full out gang war on the streets of a picturesque community like Coal Harbour.
More
Stories
comments powered by

Disqus