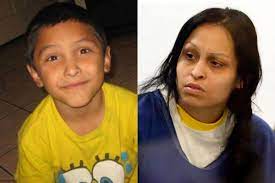 Left-Gabriel Fernandez Right-Pearl Fernandez
Pearl Fernandez says California's law
allows for the vacating of her first
degree murder plea
by Nathan'ette Burdine: April 14, 2021
Tweet
Back in 2018,
Pearl Fernandez
pleaded guilty to doing the worse thing a mother could ever do to her child. Yet now, after three years of keeping a prison bed warm,
she's decided that the time is nigh for the state of California to reward her
for taking three years, out of her life, to punish herself for taking her 8-year-old son, Gabriel Fernandez, out of life.
Pearl Fernandez
has asked the court, under California Penal Code Sections 1170.95, 188, and 189, to throw out her guilty pleas to torture and first-degree murder. More specifically,
Pearl Fernandez
is arguing that the state's updated definition of malice, under Sections 188 and 189, weakens the bonds that held her torture and first-degree murder pleas together.
Under
California's Penal Code Part 2. Of Criminal Procedure Article I sec. 1170.95
, the state of California allows for the guilty party to request the vacating of his or her murder conviction and to have his or her sentence changed on the basis of the following conditions:
A complaint, information, or indictment was filed against the
petitioner that allowed the prosecution to proceed under a theory
of felony murder or murder under the natural and probable
consequence doctrine.
The petitioner was convicted of first degree or second degree
murder following a trial or accepted a plea offer in lieu of a trial at
which the petitioner could be convicted for first degree or second
degree murder.
The petitioner could not be convicted of first or second degree
murder because of changes to
Sections 188
or
189
made effective
January 1, 2019.
Pearl Fernandez seems to believe that the last part there about "changes to Section 188 or 189" is her golden ticket to getting her guilty pleas thrown out and her sentence overturn in her favor.
Under Sections
188
and
189
, the state makes it clear that a person who makes plans to commit murder is evidence that person committed first or second degree murder with malice in her heart.
However, if a person didn't actually plan the murder and is just participating in the killing, then malice is not a factor in the state's decision to charge an individual with first degree or second degree murder.
Also, a person knowing that society doesn't like it for folks to just kill people is not seen as a good enough reason to use malice in order to charge an individual with first degree or second degree murder.
The fact that Pearl Fernandez admitted to torturing her 8-year-old son to death is going to make it very difficult for her lawyers to convince a judge that she didn't have malice in her heart. All the torturing she admitted to doing did not happen in one night. It happen over a lengthy time span.
Pearl Fernandez
tortured 8-year-old Gabriel Fernandez so much that she mixed up the torturing.
She
did things like beat the child with a belt, shot him with BB guns, made him eat cat number twos, gagged him, tied him up, and made him sleep in the cabinet.
Just to make things a little more interesting,
Pearl Fernandez and her boyfriend Isauro Aguirre
tagged team up on the little boy, taking turns beating him down like a dog in the street.
The situation was so bad that
Gabriel Fernandez told his teacher
who then told the Los Angeles County social worker people. Being social workers, they allegedly did what social workers tend to do which is nothing.
Due to them just going to work, collecting a paycheck, and not checking up on the weakest amongst us,
Gabriel Fernandez
ended up dying at the hands of his mother, Pearl Fernandez, and her ol' man, Isauro Aguirre; who, by the way, is where Pearl Fernandez should be, which is death row.
The social workers were put on trial. But for some reason or another, they were found not guilty. Yup, the system sucks. And now, the system is sucking overtime with this here new retroactive law which looks like it's meant to help humans, like Pearl Fernandez, who have a one way ticket to hell with diesel gasoline drawers on, to get another shot at freedom.
"The policies and directives from my office and these new laws created by the legislature are emboldening murderers of children to apply to be resentenced. Families now have to relive the horror," is what
LA County Prosecutor Jonathan Hatami
who prosecuted the case, told the FOX 11 LA folks.
Hopefully, on June 1, 2021,
LA Superior County Judge George G. Lomeli
will make the system do what it normally doesn't do, which is to work.
And the only wa the good judge can make the system work is by throwing out Pearl Fernandez's petition to overturn her guilty pleas to torture and first-degree murder of her 8-year-old son Gabriel Fernandez and the life sentence she's serving without parole.
More
Stories
comments powered by

Disqus