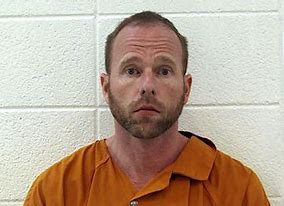 Kentucky State Rep Robert Goforth
Kentucky State Rep Robert Goforth
refuses to step down after being
charged with domestic violence
and making terroristic threats
bby Nathan'ette Burdine: June 22, 2020
Tweet
With the domestic violence and terroristic charges links making up his iron weight of shame chain that is strapped firmly around his waist,
Kentucky State Rep. Robert Goforth
forged on to today's primary election.
Goforth got himself in trouble after he allegedly attacked the mother of his three children. The way the story goes is that Goforth and his ol' lady got into a heated argument, all over a cellphone, which led to him "hogtieing" and choking her with an Ethernet cable cord that he grabbed out of the kitchen drawer.
According to the folks over at
wymt
, Goforth's ol' lady was able to get out of that the deadly situation after she promised to unlock her cellphone.
Once she was free from her bonds, the woman bolted out the door and then straight to the 911 dispatch center where she told the 911 operators that Goforth had tried to end her day on earth.
All of those marks on her forehead, neck, and arms left the folks over at the 911 dispatch center with no choice but to believe her. So, they called the police who then went over to Goforth's house to scope out the situation.
After the police got there, they found Goforth without any marks on his body. The children were unharmed. Goforth stood before the judge and told him that he didn't do it.
The judge looked out in the courtroom, saw Goforth's wife sitting there, and decided he'd better set Goforth's bond at $25,000. Knowing the judge, he didn't want to push Goforth down deeper into his circle of hell by placing a bond on him that was so high that all he could do was sit and wait in jail for the trial.
No need for the judge to do that. No sir. Goforth got his wife he tried to "Ethernet cable cord" choke down and those three children he tried to kill her in front of to take care of. And Goforth won't be able to keep his job as a state representative if he's sitting in a jail cell waiting on the trial.
That there, plus that mugshot, is a look that will make the Republicans use money that they don't have to spend on an emergency election that could possibly lead to the Democrats finding a palpable candidate that the Republicans in Goforth's district will vote for.
Goforth is running unopposed in a Republican district. So yeah, he'll end up winning his seat again. Therefore, there's no need for the Blue Grass Republicans to kick the chair from up under one of their own just so the Democrats can grab the chair and sit one of theirs in it.
Knowing it'd be against the Blue Grass Republicans' interests to get rid of one of their own, the Democrats have issued a statement telling everybody why they shouldn't vote for Goforth.
"State Representative Goforth must resign immediately. This is not the first time a victim of Mr. Goforth's violent assault has come forward. Republican Leadership has ignored this for far too long, it is time for them to take action. Goforth needs to go," is what the
Lexington Herald folks
said that the Kentucky Democratic Spokeswoman Maria McNee wrote in a statement.
What gives the Democrats hope is the fact that the sexual assault allegation against Goforth was enough for folks to not vote for him to run against the then Democratic Governor Nominee Andy Beshear.
Yup, Goforth thought he had enough "stones" to take down then Gov. Matt Bevin during the Republican Governor Primary Race. It never crossed Goforth's mind that he wouldn't be able to take down Bevin during the Republican Governor Primary Race because it was folks throughout Kentucky who were picking their party's nominee for governor.
Unlike the folks in his district, the folks throughout Kentucky just weren't feeling the "sexual assaulter, kitchen drawer Ethernet cable cord choker down, hogtier." Kentuckians didn't want a governor representing them who is being charged with a crime, domestic violence, which he helped to make a felony.
Just stop and think about that for a moment, folks. "You creating laws that you get charged under." That don't look right to us normal folks.
The Blue Grass Republicans, though, ain't paying any of that any never mind. They've been as quiet as 4 o'clock in the morning about Goforth's "criminal activities" because they know he'll just breeze right through the election, today, June 23, 2020, and on November 3, 2020.
Therefore, there's no need for the Blue Grass Republicans to put out statements or tweets blasting Goforth for allegedly letting a beef over a cellphone put him in a state of mind whereby he allegedly choke down his ol' lady down with the Ethernet cable cord from the kitchen drawer, hogtied her, and then threatened to kill her.
No sir, ain't no need to say nothing about that. Goforth ain't going to jail. The only thing the law will give him is a fine and maybe a 30-day restraining order.
More
Stories
comments powered by

Disqus