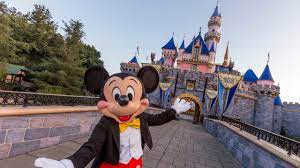 Disneyland Reopening Mickey Mouse
Disneyland reopening-Disneyland
welcomes guests back "to a Land
of Magic"
by Nathan'ette Burdine: April 30, 2021
Tweet
Hey there, folks! After being shut down for 13 months due to the coronavirus (The BIG C),
Disneyland
, in Anaheim, California, is welcoming guests back "to a Land of Magic."
To all who come to this happy place, welcome...BACK! California residents, start planning your visit now. 💫🏰💖 pic.twitter.com/gXDwHS2Zco

— Disneyland Resort (@Disneyland) April 30, 2021
Disneyland opened up at 9 o'clock, this morning, to a whole bunch of happy folks.
The joy 🤩 and excitement of #disneylandreopening #disneyland pic.twitter.com/Rb07RUqlii

— Jeff (@jeffgordonla) April 30, 2021
Happy reopening to Disneyland park! Releases this new sticker of its classic design in celebration! #disneyland #sticker #classic pic.twitter.com/wb82FUpRzn

— Kelly Nicole (@KellyNicole515) April 30, 2021
Folks were so happy about being up and out, early in the morning, at Disneyland that they were cheering like a juiced up Mountain Dew Hot Cheetos and Takis Lakers fan. Boooyyy, they were happy, happy, happy, happy, happy! "This is a homecoming for us," is what a tearful
Claudia Martinez told the LA Times folks
who were standing outside of Disneyland, early in the morning, waiting for folks to talk to about seeing Mickey, Minnie, and Snow White and the Seven Dwarfs again.
Folks are ecstatic about Disneyland reopening because many folks haven't gone, for more than a day, without their Splash Mountain.
After 14 months of isolation and getting fully vaccinated, I'm ecstatic to be at the Disneyland reopening. pic.twitter.com/2cQmmai0iF

— Amy Pivo (@AmyPivo) April 30, 2021
President John F. Kennedy's assassination and the Northridge earthquake in 1994
are the two times when the theme park shutdown.
This time around, things were different. An assailant, The BIG C, not visible to the human eye has been traveling in packs, via the air, breaking into folks' bodies just so it can shut down everything and have a killing party. In the United States, the killing party has been successful
574,791 times
, with
61,661
deaths in California making up the 574,791 times folks have died from The BIG C in the United States. Not knowing what to do with the microscopic invader led to a pandemic which caused the world to shut down.
After more than a year of the first case being reported in the U.S., we've learn a few things like mask wearing, social distancing, and not having a nasty house are all good things to keep THE BIG C way. And oh yeah, our really smart people have developed a vaccine. Therefore, the vaccine, mask wearing, social distancing, and cleaning up filth are all the reasons why Disneyland is letting folks experience the "Land of Magic" again.
Now, just because we have found a way to fight The BIG C, it doesn't mean that The BIG C has tucked its tail and ran away for good. The BIG C is still out there causing all kinds of ruckus, infecting folks and whatnot. So in order to help visitors not become one of The BIG C's latest victim,
Disneyland
is doing a phase reopening and staying in line with California's guidelines.
The
areas where guests may enjoy the "Land of Magic"
are Disneyland Park, Disney California Adventure Park, Downtown Disney District, and Disney's Grand Californian Hotel & Spa. The
places where guests will be cut off from the magic
, for the time being, are Disneyland Hotel and Disney's Paradise Pier Hotel.
Y'all remember how I told y'all that Disneyland is staying in line with California's coronavirus guidelines? Well, the thing to be mindful of is the fact that you can't just show up, like you did in the early part of 2019, to the ticket gate with your money and then just walk in. No sir! Y'all can't do that, at least not now. Y'all have to
get a ticket in advance on the online
and then show up to the Disneyland gate with y'all's ticket in hand.
The reason Disneyland is making y'all order y'all's tickets on y'all's iPhones is because the Disneyland folks need to socially distance y'all in order to decrease the chances of y'all getting The BIG C. And the Disneyland folks won't be able to socially distance y'all if they don't know, beforehand, how many of y'all are coming on the Disneyland grounds.
Twenty-five-percent
is all the Disneyland folks are letting in at a time.
Now, now, now don't y'all go getting y'all's panties all up in a bunch, saying, "Those are too many rules for me to keep track of in my head. Besides, that's HBO money I can save by letting these chilrin' look at Mickey and Minnie on the Cartoon Network." It's not that bad if y'all just follow the rules and regulations.
Speaking of other rules and regulations, Disneyland is currently close to folks who are not residents of California. "Until further notice, only California residents may visit the parks, and in groups no larger than 3 households, per state guidelines. Proof of residency may be required," is what's up on
Disneyland's website
.
There are those of you who aren't bothered by Disneyland being close to non-Californians because y'all think that means shorter wait times to get on y'all's favorite rides. But, unh-unh. The
LA Times folks
say that even though folks had made it there early in the day, they still had to wait for about an hour to an hour and thirty minutes in order to get on "the new Snow White ride." If it takes that long to get on a new ride, then imagine how long it'll take to get on an old ride that everybody likes.
So, yeah, y'all know what that means! The bathroom excuse. It's the one sure way to get to the front of the line!
More
Stories
comments powered by

Disqus