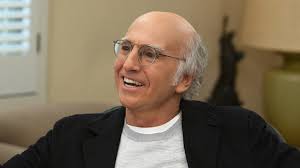 Larry David Curb Your Enthusiasm
Curb Your Enthusiasm getting an
11th season is the best news all week
by Nathan'ette Burdine: July 5, 2020
Tweet
Yeeeaaahhh boooyyy! Larry David and the Curb Your Enthusiasm crew are coming back for an 11th season! Without a doubt, this here is the best news I've heard all week! Like y'all, I can't wait to find out what happened to Mocha Joe's (Saverio Guerra) spite house that he bought with the money that he got from Larry David after Larry David's spite store, Latte Larry, burned down Mocha Joe's store.

I just got a feeling, deep down in my bones, that Mocha Joe ain't gonna keep that house. Come on now, y'all know I'm telling the truth. You don't take all of those multi-millions and buy a multi-million dollar house that takes a multi-million dollar income, which you don't have, to keep up.

Mocha Joe should've taken all of those multi-millions and invested that money back into his business so that it could become the new Starbucks.

That would've provided Mocha Joe with the income he needed in order to keep up that multi-million dollar lifestyle that he wants to live. You need that money in order to live like you got that money, now!

Hopefully, Mocha Joe didn't put too much of a dent in Larry's wallet. Because if he did, then Larry may have to put Leon (JB Smoove) out. All of that lampin' Leon be doing is driving up Larry's light bill, water bill, gas bill, and food bill.

Leon is costly, I tell y'all the truth right now. And with all of this social distancing and 10PM curfews going on around here, Leon can't earn his keep by hustling that Gotta Go app. That COVID-19 is messing it up for everybody.

Richard Lewis can't go to the restaurant and sit in the "pretty section" with the pretty little thing he picked up at Whole Foods. Jeff (Jeff Garlin) can't fake a business trip in order to go out on the golf course with Larry and them so he can get away from Susie (Susie Essman). And Larry can't dress up like Buck Dancer and sit outside Shara's (Anne Bedian) Palestinian Chicken Restaurant and wait for her to come out so they can head back over to his place for some "milk and honey."

That social distancing is rough for ol' men like Richard Lewis and Larry David, there; especially when they have to deal with young folks who don't understand that Ol' Lives Matter.
More
Stories
comments powered by

Disqus